MIC products

CRVENKOVSKI: MACEDONIA RESPECTS RIGHT OF KARAMANLIS TO FEEL MACEDONIAN
admin1 – January 26, 2007 – 2:00pm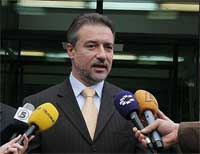 Macedonia has no problem with Greek Prime Minister Kostas Karamanlis's statement in Strasbourg that he and another 2.5 million people in Greece are Macedonians. Macedonia's politicians respect his right to declare himself as whatever he likes. But they expect the same thing from Greece.
Read More
LJUPCO SVRGOVSKI ELECTED NEW STATE PROSECUTOR OF MACEDONIA
admin1 – January 25, 2007 – 2:30pm
The Macedonian Assembly elected Ljupco Svrgovski new state prosecutor yesterday afternoon. The ruling parties were able to secure a quorum of 61 parliamentarians to elect Svrgovski to this post. The parliamentary opposition walked out of the Assembly, with the explanation that the majority did not observe the procedure.
Read More
HeadLine
admin1 – January 24, 2007 – 1:34pm
•NATO team to evaluate Macedonian reforms over next three days.
•Croatian Foreign Minister Kolinda Grabar-Kitarovic arrives on two-day official visit to Macedonia.
Read More
NATIONAL SECURITY COUNCIL: NO SECURITY THREAT TO MACEDONIA
admin1 – January 24, 2007 – 11:18am
Kosovo's status and the outcome of the parliamentary elections in Serbia are not a direct threat to Macedonia's security, the National Security Council assessed at its session yesterday. Macedonia's security services were instructed to dedicate special attention to the extreme groups and the large quantity of weapons in the region, which, together with the weak Kosovo institutions, are possible security risks.
Read More
HeadLine
admin1 – January 23, 2007 – 1:16pm
•Macedonian Security Council convenes over future status of Kosovo.
Read More
PPD WITHDRAWS FROM ASSEMBLY, BDI TO FOLLOW SUIT ON 29 JANUARY
admin1 – January 23, 2007 – 1:02pm
Why should BDI remain in the Assembly if the Government does not observe the Constitution and the Badinter principle and if it derogates the institutions, BDI Deputy Chairwoman Teuta Arifi said. This is the argument that BDI leader Ali Ahmeti will use to convince the international community representatives that the BDI Central Presidency's decision to withdraw from the Assembly is right.
Read More
HeadLine
admin1 – January 19, 2007 – 1:31pm
•Slovenian Foreign Minister Dimitrij Rupel arrives on official visit to Macedonia.
Read More
GOVERNMENT AND SDSM ARGUE OVER EU INTEGRATION FOLLOWING STATEMENT OF GERMAN AMBASSADOR
admin1 – January 17, 2007 – 2:54pm
Germany will help Macedonia most if it fulfills the defined priorities during its six-month long EU presidency: resolving of the internal crisis in the European Union and resolving of the problems related to the EU Constitution. This was Deputy Prime Minister Gabriela Koneska-Trajkovska's reaction to German Ambassador Ralf Andreas Breth's statement before the Macedonian Parliament that Germany could not be defined as a special lobbyist for Macedonia.
Read More
DEFENSE MINISTER ELENOVSKI DISCUSSES NATO MEMBERSHIP WITH ROMANIAN AUTHORITIES
admin1 – January 16, 2007 – 3:15pm
Romania offered support for membership in NATO, schooling of Macedonian Army officers, and technical support in the demarcation of Macedonia's border toward Kosovo. These are some of the issues discussed at Macedonian Defense Minister Lazar Elenovski's meetings with the Romanian authorities during his two-day stay in Bucharest.
Read More
UN MEDIATOR NIMETZ CAUTIOUS ABOUT SENSITIVE HISTORICAL ISSUES
admin1 – January 15, 2007 – 3:27pm
The aim of the renaming of the Skopje airport into "Alexander the Great" is not to provoke Greece; this was done for purely commercial reasons. This was the position that the Macedonian state leadership presented to Matthew Nimetz, UN mediator in the name dispute, in Skopje on Saturday. Nimetz was also told that the last concession that Macedonia can make as regards the name is the double formula, that is, the constitutional name for international use and a mutually acceptable name for the bilateral communication with Greece.
Read More
NATO TAKES PULSE OF MACEDONIA ON STATUS OF KOSOVO
admin1 – January 12, 2007 – 10:35am
The final status of Kosovo and Macedonia's position on this issue were the central topics of discussion at Macedonian Defense Minister Lazar Elenovski's talks in the NATO headquarters yesterday. The defense minister met with the Belgian, Netherlands, Estonian, and Slovenian ambassadors to NATO, while in the afternoon he also met with NATO Secretary General Jaap de Hoop Scheffer.
Read More
HeadLine
admin1 – January 11, 2007 – 2:32pm
•Defense Minister Elenovski departs on three day work visit to Brussels, to meet with NATO Secretary General Scheffer.
Read More
COORDINATION OF STATE LEADERS OVER NAME POSITION
admin1 – January 10, 2007 – 2:48pm
President Branko Crvenkovski is going to invite Prime Minister Nikola Gruevski, Foreign Minister Antonio Milososki and Macedonian negotiator Nikola Dimitrov to consultations with the aim of coordinating the state position before UN mediator Matthew Nimetz's coming visit. The meeting may be taking place on Friday.
Read More
HeadLine
admin1 – January 5, 2007 – 12:34pm
•Government declares Monday, 8 January, holiday.
•Police uncover large quantity of weapons in vicinity of Skopje late Thursday evening, Interior Ministry announces.
Read More
NEW PASSPORTS IN FOUR MONTHS
admin1 – January 4, 2007 – 4:24pm
The Macedonian citizens will receive the new passports in four months, Interior Minister Gordana Jankulovska said at yesterday's presentation of the first personalization machine in the world, which is owned by the Interior Ministry. The new ID documents will be made on this machine, "Dnevnik" reports.
Read More
PARLIAMENT ADOPTS BUDGET 2007
admin1 – December 29, 2006 – 1:54pm
The Macedonian Parliament adopted the Budget for 2007 projected at 112.02 billion denars (about 1.82 billion euros), thus being the largest budget ever. Revenues have been projected at 108,623,000,000 denars, and the deficit at 3,394,000,000 denars, or one percent of GDP.
Read More
DEFENSE MINISTER DISCHARGES TOP OFFICIALS OF MILITARY INTELLIGENCE AND COUNTERINTELLIGENCE
admin1 – December 28, 2006 – 2:42pm
Defense Minister Lazar Elenovski discharged the head of the military intelligence and his two subordinates, heads of the intelligence and counterintelligence, over omissions in the case with the confiscated weapons. Elenovski will meet with President and Supreme Commander Branko Crvenkovski today whom he will ask for dismissals in the General Staff. As a result of the omissions in this case, the Defense Ministry will carry out internal reforms and rejuvenation.
Read More
HeadLine
admin1 – December 27, 2006 – 3:40pm
•Defense Minister Elenovski replaces head officials of military intelligence and counterintelligence sector.
Read More
PPD TO ENTER GOVERNMENT
admin1 – December 26, 2006 – 3:07pm
PPD will enter the ruling coalition after New Year, Prime Minister Nikola Gruevski informed the members of the VMRO-DPMNE Central Committee. PPD sources confirmed that negotiations are currently underway for their entry into the Government.
Read More
THREE SENIOR DEFENSE OFFICIALS DETAINED
admin1 – December 25, 2006 – 2:34pm
Three former senior defense officials are in detention as of Saturday under suspicion that they are responsible for the affair with the ARM (Macedonian Army) weapons, which the police confiscated 10 days ago. The investigating judge ruled that Nelko Menkinovski, former assistant to the defense minister and head of the Sector for Logistics in the Defense Ministry, advisor Viktor Raicki, and Colonel Ilija Skodrovski, commander of the General Staff Command for Logistics who was discharged following the confiscation of these weapons, should be detained.
Read More
CROSSROADS – THE MACEDONIAN FOREIGN POLICY JOURNAL PROMOTED
admin1 – December 22, 2006 – 9:21am
"Crossroads is a response to the broader and evident need to increase our understanding of the region and the world and to foresee and deal with the new challenges and course of events," said Foreign Minister Antonio Milososki at the promotion of the first issue of Crossroads in the Club of Members of Parliament in the attendance of numerous representatives of the diplomatic corps and figures from the public and political life.
Read More
PRESIDENT CRVENKOVSKI: MACEDONIA IS MARKING TIME
admin1 – December 22, 2006 – 9:05am
Despite the small progress, we cannot be satisfied with that which we achieved this year, Macedonian President Branko Crvenkovski assessed in his annual address yesterday. He warned that the country is at a crossroads: it will either join the European Union together with Croatia or immediately after Croatia, or it will remain in the same group as the other Western Balkan countries whose accession to the EU is uncertain.
Read More
HeadLine
admin1 – December 21, 2006 – 2:03pm
•President Branko Crvenkovski holds annual address before Assembly.
Read More
HeadLine
admin1 – December 19, 2006 – 12:34pm
•Regulatory Commission discusses proposal for increase of price of electricity.
Read More
Subscribe Now!
Special Services

0