MIC products

20 EMIGRANTS ARRESTED ON BORDER CROSSING WITH GREECE
admin1 – May 17, 2006 – 11:53am
The Macedonian police arrested 20 migrants on the Bogorodica border crossing last night who tried to enter Greece from Macedonia illegally. Police sources said that 12 of these individuals are citizens of Albania, while eight are Chinese.
Read More
JOHNSON CONTROLS TO INVEST IN MACEDONIA
admin1 – May 10, 2006 – 10:38am
According to government sources, the company's Board of Directors took this decision a few days ago. Poland, which has been Macedonia's greatest rival until recently, definitively drops out of the game.
Read More
GOVERNMENT OWES MKD 4.7 BN TO HOME CREDITORS
admin1 – May 9, 2006 – 10:15am
The government has so far issued bills of 4.7 billion denars, thus becoming indebted to home banks and companies, in order to plug the budget hole and to avoid taking expensive loans from foreign creditors, "Business" daily writes.
Read More
UNITED STATES SUPPORTS MACEDONIA, CROATIA, AND ALBANIA FOR NATO MEMBERSHIP
admin1 – May 8, 2006 – 2:04pm
The United States supports the Adriatic Charter signatories' efforts to become part of NATO and the EU, US Vice President Dick Cheney told Macedonian Prime Minister Vlado Buckovski, Croatian Prime Minister Ivo Sanader, and Albanian Prime Minister Sali Berisha at their meeting in Dubrovnik, the Macedonian media report.
Read More
TENDER FOR CONSULTANT FOR RENTING AIRPORTS ANNOUNCED
admin1 – May 5, 2006 – 12:34pm
The Ministry of Transport and Communications announced the tender for selecting a consulting house that will prepare the documents for leasing the airports in Skopje and Ohrid. The consultant should develop a model by which the two airports should be rented in keeping with the Concession Law and the Aviation Law. The tender procedure will have a pre-qualification stage.
Read More
MACEDONIAN, GREEK FOREIGN MINISTERS AGREE TALKS ON NAME TO CONTINUE AFTER ELECTIONS
admin1 – May 4, 2006 – 9:21am
Macedonia's position on the use of its constitutional name is known, Foreign Minister Ilinka Mitreva stressed at her meeting with her Greek counterpart Dora Bakoyannis in Thessaloniki yesterday, in the margins of the Summit of the Process for Cooperation in Southeastern Europe. The two foreign ministers also stated that the talks on the name would continue in the United Nations after the elections.
Read More
ADRIATIC GROUP EXPECTS CLEAR MESSAGE ON MEMBERSHIP IN NATO
admin1 – April 26, 2006 – 10:41am
Macedonia, Albania, and Croatia expect a message from NATO's summit in Riga this fall that they would receive an invitation for membership in NATO as soon as possible. This message was conveyed by these three countries' foreign ministers and defense ministers at yesterday's meeting on Brioni, Croatia.
Read More
DEPUTIES ARGUE AGAINST ELEM'S NEW LOANS
admin1 – April 25, 2006 – 12:45pm
The conditions for taking loans by AD ELEM from KfW of Frankfurt for provision of equipment for the Brod-Gneotino opencut mine are unfavorable, according to the members of the parliamentary committee for financing and budget. They asked that the law on taking loans by ELEM be taken off the Parliament's meeting agenda.
Read More
BUCKOVSKI: ING CHANGED POSITION DUE TO FINANCIAL, NOT POLITICAL REASONS
admin1 – April 21, 2006 – 3:16pm
Prime Minister Vlado Buckovski stated today that he received information from the Macedonian delegation that attended the consultations with ING representatives in Amsterdam that there is a new offer for Postenska Banka, which will be assessed by the Macedonian Government over the next few days.
Read More
IMF BOARD APPROVES FIRST REVIEW OF ARRANGEMENT
admin1 – April 20, 2006 – 9:37am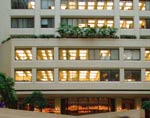 The IMF Board of directors approved the first review of the standby arrangement with Macedonia late last night. The three-year arrangement of $73 million was approved to Macedonia on 31 August year 2005.
Read More
ULTIMATUM FOR FORMATION OF NEW STATE UNION MACEDONIA-ILIRIDA
admin1 – April 19, 2006 – 8:41am
In its first statement to the public, the Albanian National Movement for Ilirida (NADI) expresses concern about the discrimination against the Albanians on their ethnic territories. This nonprofit, non-party, and nongovernmental organization demands that the Macedonian Assembly holds an emergency session at which it would freeze the parliamentary elections and introduce amendments to the Constitution by proclaiming Macedonia a union of two equal peoples or new state union Macedonia-Ilirida.
Read More
PARLIAMENTARY ELECTIONS TO BE HELD ON JULY 5
admin1 – April 18, 2006 – 1:43pm
Assembly Chairman Ljupco Jordanovski stated today that the parliamentary elections would be held on July 5. He explained that he would officially call the elections by the end of this week.
Read More
ELECTIONS TO BE HELD ON 5 JULY
admin1 – April 17, 2006 – 12:41pm
The Government decided that the parliamentary elections would be held on 5 July. At a secret meeting held on Saturday (15 April) the SDSM leadership assessed that the holding of the elections on the first regular date has numerous advantages for them and that their chances for victory are quite certain, "Utrinski Vesnik" reports. An agreement on this date was allegedly reached between coalition partners SDSM leader Vlado Buckovski and BDI leader Ali Ahmeti.
Read More
MAN INJURED BY BOMB DIES LAST NIGHT
admin1 – April 13, 2006 – 8:59am
After a long fight for his life, the man injured by a hand bomb on the Naroden Front Street in Skopje died last night. The Interior Ministry officially reported that the bomb exploded following the quarrel of the deceased and another two persons. He promised them jobs and had been paid for it, but failed to keep his promise. The police investigation continues.
Read More
EXPLOSION IN SKOPJE
admin1 – April 12, 2006 – 3:26pm
One man was heavilly injured in a bomb explosion today at 14.30 hrs in the center of Skopje near a few famous restaurants on the Naroden Front Street (Kapistec). Eyewitnesses claim the blast happened following a quarrel between two groups where one man took out a bomb that went off in his hand.
Read More
EU IS NOT OUT OF MACEDONIA'S REACH
admin1 – April 11, 2006 – 3:33pm
"The road to joining the EU is long and the drawbacks that you should overcome are numerous. A Spaniard is telling you this. But what is more important for you today is that the road has already been traced," said the President of the European Parliament, Josep Borrell Fontelles, in his address to the Macedonian Parliament on Monday.
Read More
FINANCIAL TIMES ANNOUNCES TENDER FOR TEC NEGOTINO
admin1 – April 7, 2006 – 11:27am
The international tender for selling the steam power plant TEC Negotino was published in The Financial Times. The companies interested to race for the tender will have to prove that they have assets of over 300 million euros, income of over 200 million euros in the last two fiscal years and profit of more than 20 million euros. Consortiums, including at least one company meeting these requirements, will also be able to participate in the tender.
Read More
ASSEMBLY ADOPTS ELECTION CODE
admin1 – March 30, 2006 – 9:11am
The Macedonian Assembly adopted the Election Code last night, the electronic media reported yesterday. Article 192-a, which was added to the bill, also became part of this code.
Read More
Subscribe Now!
Special Services

0